Andean Wool Slippers – Felt Slipper Boots
Brought to you by the artisans of Bolivia and fashioned from 100% pure Andean wool using traditional age old felting techniques, our handmade slippers are guaranteed to be some of the warmest footwear you will ever wear.
Created in a wide variety of styles these Andean slipper boots each have their own unique characteristics, meaning you will never find two pairs the same.
Purchased at a fair trade directly from our artisans in La Paz, our felt slipper boots are noted for their warmth and comfort and are incredibly popular across all age groups for men and women.
Some of our most popular boots include our jester, flower and multi-coloured styles.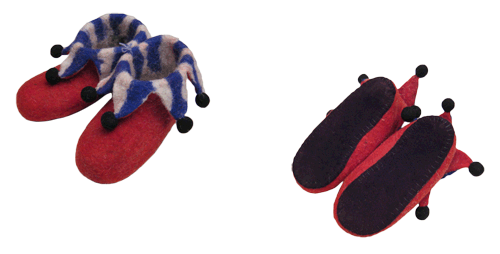 All our slippers feature a suede sole for extra comfort and grip.
Slipper boots featuring colourful flower designs.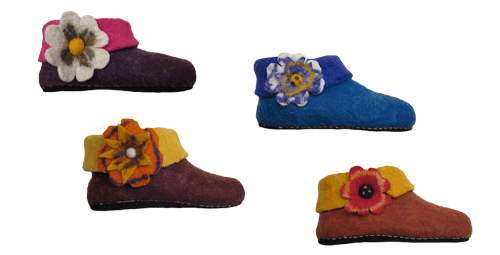 Sizing Your Slippers
…
When choosing your slipper boots, please note the size listed in the product title and accompanying bullet points.
All our slippers are personally sized and should comfortably fit the size stated, however some of our listings are shown as being suitable for two sizes e.g. 9 to 10.
In these cases, the slippers should comfortably fit the larger size ( 10 ) and may also be considered to be a looser fit for the smaller size ( 9 ), leaving plenty of room to move around in.
Please consider whether you prefer 'snug' or 'loose  fitting' slippers when choosing your size.

Multi-Coloured Slipper Boots
Due to their handmade nature, every pair will differ to some extent regarding their length width and height, so even those listed as a similar size may have slightly different inside measurements from the next.
If you find your chosen size is a reasonably good fit but not quite 100% perfect when you receive them, please remember they are made of wool which does offer some leeway and will adjust once they have been worn in a little.

Patterned Slippers
Buyers are always protected by our 100% satisfaction guarantee and are welcome to return their slippers for a full refund or to try another size (providing the slippers are returned in their original condition).
Please ensure when testing your boots for size, the suede soles are protected from wear or staining from indoor floors and surfaces.
…
Please view our slippers category below for our current selection.
Handmade Andean Felt Slipper Boots
Tags: andean slippers, andean wool, felt boots, felt slippers, house boots, house slippers, slipper boots, slippers, woolen slippers