Handmade Leather Belts
Original Artisan provides a wide range of high quality Andean leather wear, including an excellent selection of handmade leather belts and leather money belts.
Many of our belts come embossed with traditional Andean patterns and imagery, featuring indigenous animals, people and objects of daily life stamped along their length.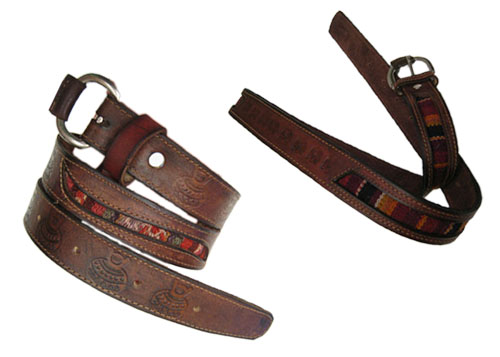 Made from thick brown leather with a dark suede back, our belts range in a variety of sizes and styles to suit men, women and children. Please take a look at our belts category to view our current stock.
…
Leather Belts with Traditional Andean Weavings

One of the nicest aspects of these leather belts is that each comes with it's own traditional tribal weaving sewn in sections throughout it's length, making each belt individual and unique.
These woven sections are sourced from original tribal weavings and recycled to make many types of usable item, including garments and accessories like our Andean waist pouches with weavings and other crafts such as tribal statues, wallets and purses.
Money Belts
Many of our leather belts also double as money belts, featuring a secret zipped compartment along the back of the belt suitable for notes and coins.
Choosing Your Belt Size
Belts come in various sizes ( shown in our listing titles ) and vary in small increments.
Regarding the length, apart from waist size, many people wear belts in different ways preferring differing lengths of overlap depending on their style.
For this reason we believe the best way of ensuring a belt will fit, is for buyers to measure one of their own belts from end to end ( including the buckle ) in centimetres and compare it with our sizes which are also measured from end to end. i.e. from the furthest tip of one end of the belt, right to the furthest tip of the other end, including the metal buckle.

Belts measured from end to end – including the buckle.
This way you can be sure your belt will fit and also have the right amount of over lap for your needs.
…
If you find for any reason the belt is not suitable when you receive it, you are welcome to return it under our 14 day satisfaction guarantee.
…
Visit our shop for lots more handmade leather belts & moneybelts
Tags: belt, embossed leather belt, fairtrade, handmade leather belt, leather belt, money belt, moneybelt