Bone Quena – Kena – Professional Andean Flute w. Ebony Mouth Piece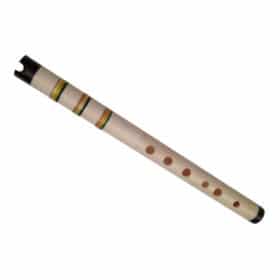 The Aymara quena (kena) is a traditional Andean flute commonly used in many areas of traditional Peruvian music. The quena produces an exceptionally beautiful sound and has been played by the indigenous tribes of South America and their ancestors for generations, once being revered as a sacred icon.
Although originating from the mountains of South America, the quena is a favourite of musicians and woodwind players all around the world.
Please view our quena samples page for demonstrations of some of our flutes being played.
These instruments are made from various materials including bamboo, bone and other rare woods such as Jacaranda and Guayacan (Wayacan).
They can have 4, 5 or 6 holes in the front, one at the back, and a u shaped notch at the mouth. The six hole quena has a musical span of 3 octaves.
The professional quena you see here is made from donkey bone with ebony mouth and end pieces, which serve to reinforce and strengthen the flute as well as add to it's beauty.
This flute was made by a professional Bolivian luthier who has been making these high quality instruments as his lifetime's trade.
Concert tuned to the scale of Sol Major (G) / Mi minor (Em).
Measuring 14.75 inches long and 1 inch wide, each quena flute has it's own unique characteristics, showing differences in colour, grain and dressing.
Free Deluxe Quena Cover

This flute comes with a stunning deluxe woven case worth £9.99 absolutely free. Not to be confused with a standard cover, these have been especially made to provide even better protection for our instruments, with a high quality case lining and individually made to provide an extra snug fit.
Cases come in a wide variety of colours and styles and will be sent out at random. Please contact us if you have any particular colour preferences and we will do our best to accommodate you.
Click here to view our quena covers and contact us with your preferences.