How To Purchase
Original Artisan is dedicated to bringing the best of Bolivia straight to your door.
Every day we continually strive to improve the services and products we offer to our customers. Over the next few months you will see great improvements being made both in the appearance and structure of the site, the products being offered for sale and the blog content.
At the moment, there are four methods of payment offered on this site.
1. Payment through PayPal.
2. Instant payment via credit or debit card. No PayPal account needed.
3. Payment by personal cheque.
4. Payment by postal order.
Instant Credit or Debit Card Payments & PayPal

PayPal is the main method of payment available on this website, also being the quickest, easiest and safest option available to our buyers.
For those who do not have a PayPal account, don't worry – You can still use their secure payment gateway to process your credit or debit cards instantly and for free, without the need for an account. Please see our instructions below.

Why Do We Use Paypal ?
Many internet shops incorporate their own credit card facilities on their wwebsites, which without proper security can often be liable to hackers and fraudsters who try and gain access to users details.
In using Paypal to purchase through this website, our users use Paypal's very own secure payment gateway which is one of the most secure shopping carts in the world. This means users never have to share their details with us, or anyone else. We do not hold your details and no one will ever be able to access them – making your purchase, credit and bank details 100% secure.
Purchasing using PayPal also has many other benefits and provides free buyer and seller protection whilst guaranteeing secure payments. Millions of online shops and services across the globe use PayPal as a preferred method of payment, including eBay and Amazon.
PayPal is free. A new user can register for a free PayPal account and make an immediate purchase using their debit or credit card details as normal.
Click here to get a free PayPal account.
If you would like to know more about PayPal, click the links below for a short explanation video from their website.
What is PayPal and PayPal video.

PLEASE NOTE : If you do not already have a PayPal account, you can still complete the shopping process below. You will be given the option to register for a free PayPal account or to continue without an account if you prefer.

You will then be able to pay instantly as you would using a normal credit or debit card, without having to wait or charge your PayPal account with funds before making your purchase.

How to Make a Purchase

1. Select a product category i.e. Hats or Clothing etc. from the 'Shop' menu on the left hand side of the screen, or from any of the graphics located on the sidebars.
2. Scroll down the page viewing the various products in that category. Click on the blue title link of the product in question to view detailed gallery pictures on the individual sales pages.
3. To purchase the product, click the 'Add To Cart' button situated next to the 'Price' and 'P&P' tags.
You will notice the shopping cart logo situated at the top right hand side of the sidebar change from this..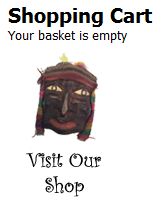 ..to something like this.


If you would like to keep shopping, continue selecting products and clicking 'Add To Cart' to add more products to your shopping cart.
If you would like to change your order, click the 'Empty Cart' mask logo and your items will be removed form your shopping cart.
4. When you have finished shopping and would like to complete your purchase or view the contents of your shopping cart, click on the 'Proceed to Checkout' mask logo. You can also access the 'Checkout' page from the pull down 'SHOP' menu near the top of the website under the main 'Original Artisan' site banner.
You will then be taken to your 'Checkout' page which will have details of the items you have placed in your shopping cart.
5. On the 'Checkout' page, you can remove items or change the quantity of items you wish to purchase by using the 'Update' and 'Remove' buttons. Here you can also enter your voucher or coupon codes for extra discounts.
6. Select your country of shipping from the pull down menu on the shipping calculator and click 'Calculate' to update your shipping totals and costs.
Your initial shipping will be calculated for each item as if shipped seperately. Once paid for and shipped, a refund will be immediately returned to the buyer for items that can be combined and sent together.
Our 'Shipping Price Promise' means we will always combine items and send them in the most efficient way possible to ensure you get a fair shipping price for your order. Refunds will be processed as soon as possible post shipment. See our saving on postage page for examples.
7. Enter your email, billing and shipping details. Tick the 'same as billing address' check box to save time if your billing and shipping addresses are the same.
8. Click the 'Purchase Via Credit Card or Paypal' button. You will be directed to PayPal's secure payment website where your transaction will be processed safely and securely.
At this point, you will be given the chance to either :
a) Log into to your usual PayPal account using your log in details and follow their simple online instructions.
or
b) Pay instantly via a credit or debit card if you do not have a PayPal account.
To select this option, around the middle of the page, you should see this image
Click on the blue 'Pay with a debit or credit card' link and you will be presented with a page where where you can input your card and billing details.
Once you have selected your card and input your details, click the orange 'continue' link at the bottom of the page and PayPal will guide you through the simple process of payment on their website. You will be given the option to sign up for a free account or to continue with your payment without an account.
That's It !

How to Make a Purchase Via our 'Strike a Deal Link'
For those of you who have been engaged in communications regarding a specific item or a special purchase from Original Artisan and know how much your payment should be, we have provided a 'Strike A Deal' link which will allow you to manually pay your totals, using a credit or debit card, via PayPal. Even those without a PayPal account will be able to complete their purchase this way.
If you are not sure how much your payment should be, just contact me and I'll be happy to calculate your totals for you.
1. From any page on this site, go to the right hand side bar and slowly scroll down to the bottom of the page. As you scroll down the right hand sidebar, near the bottom you will come across our 'Strike A Deal' image link with the smiling mask.
2. Click the 'Strike A Deal' image. You will then be taken to a secure PayPal page where you may input your amount opposite the Original Artisan : Reference : 'Strike A Deal' prompt.
3.Then click 'Update Totals'.
For those who already have a PayPal account :
Enter your email address and password and log into your PayPal account from which you will be able to complete your payment as usual.
For those without a PayPal account wanting to pay via a credit or debit card :
Simply input your details and click the orange – 'Review Donation and Continue' link from which you will be allowed to complete your payment by following the online instructions.

Cheques and Postal Orders
Original Artisan gladly accepts payment using personal cheques and postal orders. If you would like to pay using one of these methods, please contact me using the contact form or email me at the address shown on the contact page.
Note : For payment by cheque, all goods purchased will be shipped as soon as payments have been processed and the funds have cleared. Depending on the individual banking services used and the countries from which payments are made, this can take anything from three working days for cheques to clear locally in the UK or up to two weeks for international verification.
For postal order payments, items will be shipped immediately upon payment being successfully completed.

Purchase Using Cheques and Postal Orders
Please contact us either by phone, email or the contact form with your order details and shipping address and we will be happy to process the order for you manually.
You can find our customer service number on our contact pages. Please leave a message for Chris and we will get back to you as soon as possible.
Thank You
Kier