The Death Road
The North Yungus Road runs from La Paz to Coroico, connecting the Yungus (the Amazon Rainforest region of North Bolivia) to the world's highest capital city La Paz, ascending over 15 000 feet to La Cumbre pass before plummeting down deadly narrow mountain roads, barely 3 metres wide to only 3900 ft above sea level.
…
The Road of Death
…

Descending through Bolivia's beautiful mountain terrain, winding through hilltops and cliffsides with no safety barriers to protect travelling vehicles from vast 2000 ft roadside drops, it is little wonder the treacherous path claims the lives of hundreds of victims a year and is officially known as the 'world's most dangerous road'.
Although the rest of Bolivia drives on the right hand side, the road to Coroico has it's own rules. Vehicles must drive on the left side of the road, allowing ascending drivers more visibility from their left hand drive vehicles.
Those descending gain safety and right of way on the inside, whilst those ascending the mountain carefully inch their way past oncoming vehicles, staring down the mountain's edge as they struggle to avoid the treacherous canyons below.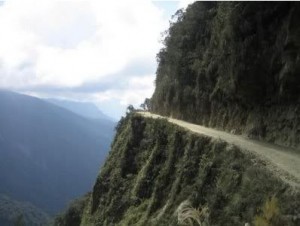 The North Yungus, also more pleasantly known as Grove's Road has a sister causeway, Chulumani Road (South Yungus Road) connecting La Paz to Chulumani, which is almost as deadly.
…
Thankfully, the most treacherous section of the infamous road of death has now been modernised with a new route bypassing one of the most dangerous stretches, resulting in less traffic frequenting the old road.
…
Every year this infamous tourist destination attracts tens of thousands of hikers and sightseers, all aiming to view the wondrous sights and viewpoints along it's path.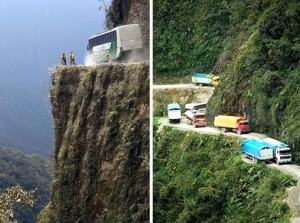 With more thrill seekers, mountain bikers and downhill enthusiasts seeking to take on the excitement and dangers of the Road of Death, as it's popularity increases, so do the number of crosses that line it's path.
…
Tags: bolivia, grove's road, la paz, mountain road, north yungus road, the road of death